WITH THE GREAT 7-TIME BATTING CHAMPION, ROD CAREW
by: Amaury Pi-Gonzalez
Today is all about launch angle, velocity of home run balls while the batting average in MLB for a hitter is around .220 to .230.  Nobody seems to value what it was to hit in the mid to high .300's, like Rod Carew. There was a time when batting titles were cherished. Not anymore.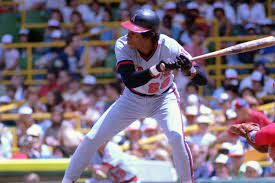 Rod Carew won seven (7) batting titles in the American League. The man from Panama was one of the best hitters of any generation. The way he explains hitting (if you are a real baseball insider) would impress anybody. He made contact most of the time, strikeouts were very few during his great career. He knew how to hit, hit and run, hit behind the runner, hitting in a game situation, all that today is seldom implemented. If you know baseball, you know what I mean.
Rod Carew is the Hispanic/Latino baseball player with the most batting titles.
MOST MLB BATTING TITLES (HISTORY)
Ty Cobb 12
Tony Gwynn, Honus Wagner 8
ROD CAREW , Stan Musial, Roger Hornsby 7
Ted Williams 6
Wade Boggs, Dave Brothers 5