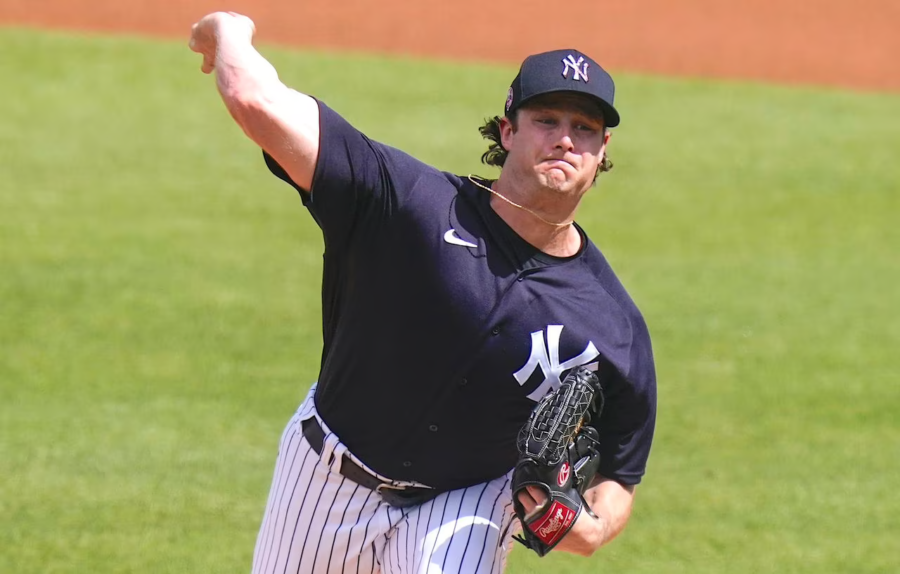 YANKEE STORY: GERRIT COLE
by: Victor Suarez
Gerrit Cole is a professional baseball pitcher for the New York Yankees in Major League Baseball (MLB). He was born on September 8, 1990, in Newport Beach, California, to parents Mark and Sharon Cole. Gerrit was raised in a family that had a deep love for baseball, and his father played college baseball at Brigham Young University. Cole played baseball in high school and was eventually drafted by the New York Yankees in the first round of the 2008 MLB draft, but he did not sign with the team and instead decided to attend college.
Cole attended the University of California, Los Angeles (UCLA), where he played college baseball for three years. He was dominant in his college career, posting a record of 21-20 with a 3.38 ERA and 376 strikeouts in 322 innings pitched. In his junior year, Cole was named the Pac-10 Conference Pitcher of the Year and was a finalist for the Golden Spikes Award, which is given annually to the best amateur baseball player in the United States.
After his junior year at UCLA, Cole was drafted first overall by the Pittsburgh Pirates in the 2011 MLB draft. He quickly rose through the minor league system and made his major league debut in 2013. Cole became a standout pitcher for the Pirates and was named to the National League All-Star team in 2015 and 2016. In 2017, he struggled with injuries and saw a decline in his performance, but he rebounded in 2018 with a 15-5 record and a 2.88 ERA.
In December 2019, Cole signed a nine-year, $324 million contract with the New York Yankees, making him the highest-paid pitcher in baseball history at the time. He had an impressive first season with the Yankees in 2020, going 7-3 with a 2.84 ERA and 94 strikeouts in 73 innings pitched. Cole was also named a finalist for the American League Cy Young Award, which is given annually to the best pitcher in the league.
Cole is known for his elite fastball, which regularly reaches speeds of 98 miles per hour, as well as his devastating slider and curveball. He is a fierce competitor and is widely regarded as one of the best pitchers in baseball today. Off the field, Cole is known for his charitable work, particularly with the PitCCh In Foundation, which was established by his former teammate CC Sabathia to help underprivileged youth in the New York City area.
In conclusion, Gerrit Cole is a dominant pitcher in Major League Baseball who has established himself as one of the best in the game. With his impressive repertoire of pitches and his competitive spirit, he is a valuable asset to the New York Yankees and a force to be reckoned with on the mound. His dedication to the game and his philanthropic work off the field make him a role model for aspiring young baseball players everywhere.