WOULD'VE LOVED TO HAVE SEEN THEM WITH A RING!
BY ISMAEL NUNEZ
Now that the 2022 World Series is over, and we were all proud to see the contributions of Latin American Baseball players in the Fall Classic, here are some who this reporter, and along with sisters/brothers from Latin America, would've loved to see have a ring.
First Base-Carlos Delgado- He was a fine hitting player, fielder, mainly underrated, spending many years with the Toronto Blue Jays, if not for injuries he'd have over 500 career HOME RUNS. Hall of Famer, just maybe. 
Rafael Palmeiro- Has over 500 career HR's and 3,000 hits. What hurts is that he has no ring. What about the fact he got caught taking substances? This performance might prevent him from being voted into the Baseball Hall of Fame.
Second Baseman-Rod Carew- One of greatest left-handed hitters of all time. 3,000 hits, seven batting titles, Most Vaulable Player 1977. The only thing missing is a ring.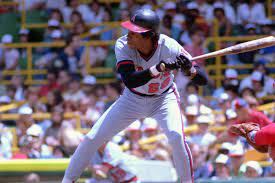 Shortstop-Omar VIzquel- One of the greatest fielding shortstops of all time. What hurts is during his career Derek Jeter and Alex Rodriguez were around, and both had a better bat than Vizquel. Also Jeter has 5 Rings, AROD has one ring.
Shortstop-Nomar Garciaparra- He came around the same as Derek Jeter and AROD. He won two batting titles yet injuries hurt his career. Would've been considered for the Baseball Hall of Fame.
Third Base-Adrian Beltre- Another underrated player, who deserves HALL OF FAME consideration. 
Left Field-Minnie Minoso- A fine gentleman, player, and elected to the Baseball Hall of Fame 2022. What took them so long?
Center Field-Cesar Cedeno- A fine ballplayer, won several gold gloves yet injuries would hurt his career.
Right Field-Vladimir Guerrero- A fine 5 tool player. Had one of the best throwing arms in RF, could hit for power and had fine speed. Most likely the greatest player to ever play in the country of Canada. 
Catcher-Sandy Alomar- Older brother of Roberto Alomar. Fine fielding catcher and consistent hitter yet injures would hurt his career. 
Designated Hitter-Edgar Martinez and Tony Oliva- Two of the most consistent hitters in MLB. Martinez with two, batting titles, Oliva with three. Martinez was elected to the Hall of Fall in 2019 along with fellow Latin American Mariano RIvera who once stated "He's the toughest hitter I ever faced." Oliva who was elected on 2022 with fellow Cuban Minnie Minoso and former teammate with the Minnesota Twins, Jim Kaat. Kaat stated proudly "Give me a ballplayer who can hit with both power and consistency and that was Tony Oliva." 
Pitcher-Juan Marichal-Elected to the Baseball Hall of Fame 1983, who with Bob Gibson and Sandy Koufax dominated the National League with their performances on the mound. Yet despite his accomplishments he was often underrated. Here's the thing, both Gibson and Koufax were named to the MLB All Century Team, not Marichal! Yet as Baseball personality and announcer Joe Garagiola once stated "Baseball is funny game."