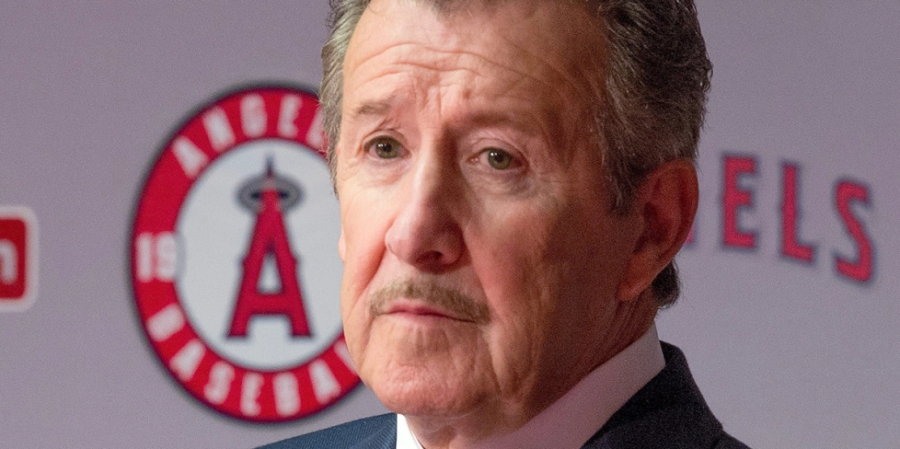 WHY IS ARTURO MORENO SELLING THE LA ANGELS?
From The Press Box
Amaury Pi-González
Mr. Arturo (Arte) Moreno purchased the LA Angels from Disney Corporation for $180 million in May 2003. The team is listed today with a value of over $2 Billion. Mr. Moreno when asked yesterday about a potential sale of the team said "It has been a great honor and privilege to own the Angels for 20 seasons". I can understand why he is done with baseball.
I met Mr.Moreno when I was broadcasting Angels baseball in Spanish for Fox Sports West. Many times prior to a game he would walk into our booth (José Mota was the analyst with me for this telecast; I handled the play by play) Moreno was always jovial and engaging with us, liked to talk baseball, and was very enthusiastic about the game overall and his team, he will always say "let's win today".  Sometimes he would begin a conversation in Spanish. Arte Moreno is a businessman, 76 years old, who became the first Mexican-American to own a major sports team, born in Tucson, Arizona.
Some team owners are criticized (mostly by the fans) because they never seem to spend enough money for super star players. But nobody can say that about Arte Moreno. Right after he bought the team from Disney one of his first signings was the great Vladimir Guerrero, he is now in the Hall of Fame. Just before the 2019 season began he signed center fielder Mike Trout to $426.5 million, the largest contract in professional sports history. Anthony Rendon signed a 7 year $245 million contract, with a $4 million signing bonus and this 2022 season his base salary is $36 million. Rendon, the Angels third-baseman played just 58 games in 2021, groin, knee, hamstring, hip injuries. Rendon is out this 2022 with wrist surgery. This is what Mr. Moreno got from Anthony Rendon's $245 million contract. Rendon played just 52 games in 2020 granted this was the covid abbreviated 60-game season, his first season with the Angels, 58 games in 2021 and just 45 games this 2022 season. That is frustrating for everybody, fans and management, but injuries are part of the game. Bad luck. There were other signings during Moreno's ownership that did not worked out very well. The one that I remember, as I was doing their games, was pitcher CJ Wilson who signed a $77 million 5-year contract around 2012-2015, but Wilson under performed. Prior to 2012 season Arte signed Albert Pujols to a 10-year $240 million dollars, he will be in the Hall of Fame by 2027.
Shohei Ohtani plays for Arte Moreno's team. Arguably the most exciting player in many decades. There is nobody today with the god-given talent of this Japanese mega star. He can pitch with the best and hit (with great power) with the best, he is the whole package and just like Mike Trout a tremendous asset to the Angels organization, affable, a great teammate, totally the dream player for anybody. The American League MVP last season. Ohtani makes $5.5 million during this 2022 season, maybe the greatest bargain ever. However, after the 2023 season he'll be an unrestricted free agent and can sign with whomever he wants. There is a good chance Mr. Moreno will not have to open the pocket-book to sign that monster of a contract that the Japanese star deserves and will probably get.
There is no mystery why this owner is selling this team. He expected a much better return on his investment and he is not having the fun he was anticipating. The Angels have been short of pitching now for a longtime, and nobody can win without pitching, even a lineup that was as loaded as the Angels. Bad luck has run in his organization with other scandals that have been well publicized. The dead of pitcher Tyler Skaggs perhaps the biggest shocking news for the Angels. A federal jury found former communications director Eric Kay guilty on two felony counts. The jury agreed with the government that he distributed the deadly drug fentanyl and caused the death of Angel's pitcher Tyler Skaggs while the team was playing the Rangers in Texas. In 2009 just a few hours after the best performance of his young and promising major league career, pitching in Anaheim against the visiting Oakland A's, Nick Adenhart, a 22-year pitcher for the LA Angels was one of three people killed when the car they were traveling in was struck by a vehicle driven by a suspected drunken driver.
This season the Angels are lucky that the Oakland A's began another rebuilding before the season got under way and have the cellar already reserved, otherwise they would be the occupants. The Angels occupy the fourth place and that is more than likely where they will finish this season.
Finally. This year three-time American League MVP, Mike Trout has been dealing with a complicated condition, what is known as 'costo vertebral dysfunction' at T5 of his spine. The team has to monitor this condition for the rest of the season and also "through the rest of his career"
By the way, there is the Anaheim City Council who canned Angel Stadium deal after FBI corruption probe into City Hall.
Mr. Arte Moreno's dream of winning a World Series, or two, during his ownership has not materialized. Ironically he bought the team from Disney (as mentioned here) in 2003; one year after the Angels won their only World Series against the San Francisco Giants. Interesting years under his ownership, but I think it was just time for him to sell, and I do not blame him. Heck, if I was him I would sell also.