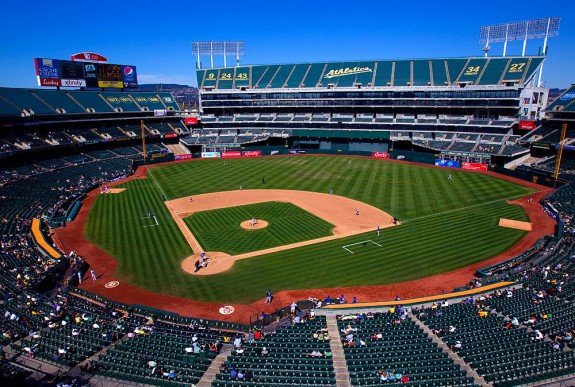 OAKLAND A's: TOUGH DAYS AT THE COLISEUM, NOTHING NEW
From The Press Box
Amaury Pi-Gonzalez
On April 17, 1979 the Seattle Mariners visited the Oakland Coliseum, the official attendance announced was 250. Yes, 250 people. We might not get to that point this season. In 1979 there was also very high inflation, they were gas-lines and shortages, a hostage situation and a war in the middle east, in other words very similar to what's happening now, with the big difference that covid was not around. The population of Oakland was around 330,000 people. Charlie Finley eventually sold the team to the Haas family/Levi Strauss, in my humble opinion, the best ownership the A's ever had . Right away got to work and build a winning atmosphere with great players, winning pennants and three consecutive trips to the World Series (1988-89-90) winning over the Giants the 1989 World Series. The Coliseum was a place to be and enjoy baseball with all kinds of promotions and great players like Henderson, Stewart, Canseco, McGwire and company. Regardless on how you feel, we must credit Charlie O Finley because he did built a tremendous championship team that won three World Series in a row, from 1972 to 1974. As a matter of fact only the A's and Yankees can say they have won 3 consecutive World Series. Yankees as many as 5 in a row during their 1950's dynasty. However, after those 3-years Finley basically traded everybody, he didn't wanted any part of the signing of free agents, he thought paying a million dolalr for a player was crazy.  Finley suggested every player should become a free agent every year and sign a one-year contract. By-the-way, the current Oakland A's have nothing but with one-year contracts.

Soon this summer A's fans will know if the team will definitely be able to build the new Howard Terminal ballpark or not. "It is Howard Terminal or bust", said Dave Kaval President of the A's, after the recent positive decision by the BCDC, San Francisco Bay Conservation and Development Commission.  If the A's get the final approval to build the new ballpark in downtown Oakland, they will still have to play at the Oakland Coliseum for a couple of years and chances are that with the current team, not expected to be in the race for postseason, attendances will continue to be so small that some players will tell you they can hear the stadium vendors as clear as if they were sitting with the fans. There are still hurdles and three lawsuits against the A's building the new park at Howard Terminal.
I talked with many fans at the Oakland Coliseum, true Oakland A's fans for years and they are more than frustrated, they are extremely cynical. One told me a few days ago "We still support the A's and come here knowing that Montas, Laureano, Murphy and any player than can bring some value in return will be gone". Nobody can blame any A's fans for their attitude, they are the ones paying for parking and for the games and for souvenirs and food. There used to be a saying that "the costumer is always right". And, in this case, they are right.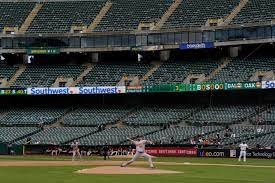 There are some of us that were here in the Bay Area and remember the late 1970's with the Oakland A's. I was broadcasting in Spanish from what it was them Box 19. To my left there was a young man doing play by play for the A's, he was a student at Cal Berkeley. That year Finley did not sell the broadcast rights to a commercial radio station, it was the very low power campus station and their students broadcasting the A's games. Our Spanish station was KBRG FM 105.3 with studios in the Merchandise Mart in San Francisco, and Carl Finley, who was running the team for Charlie told me, "Can you mention the score in English in between innings"? which I did. Oh…that young man -I mentioned- that was doing the play by play for the Oakland A's, on a small booth to my left in 1979, was Larry Baer, today the President and Chief Executive Officer of the San Francisco Giants, credited for his efforts in the construction of beautiful Oracle Park in San Francisco.