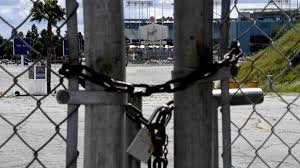 MAJOR LEAGUE BASEBALL OFFICIALLY IN LOCKOUT
From The Press Box
By Amaury Pi-González
At 12:00 AM (midnight) Thursday, December 2, 2021, owners locked out players after both sides failed to come to a contract of a new CBA (Collective Bargaining Agreement). For the first time since 1994-1995 there is a lockout in the game. The best news is that this is happening early, with two-and-a half months before all 30 teams report to their respective training camps in Arizona and Florida. The 2022 season is scheduled to begin on March 31.
Without a new CBA, which is the negotiated accord that governs 99.9 % of the working relationships between MLB and MLBPA (players association), there is no baseball, there are no games, and transactions between teams are now frozen.
During a lockout, free agency and trades of major league players are not allowed.
To make this clear: A strike is when the labor side (players and their union) puts a halt to operations, while a lockout is when management (owners) initiates the stoppage. In other words; a strike is when the players refuse to work while a lockout is when the owners refuse to permit the players to play. In this case, it is a lockout.
During the past three weeks, teams have spent close to $2 billion dollars in player signings. Max Scherzer, Corey Seager, Marcus Semien, Robbie Gray, Byron Buxton, Kevin Gausman, and Javy Baez are among some of the players that have gotten new contracts with new teams between $100 million to $325\ By looking at these signings we would thing the business of baseball is doing great. Owners do not pay these contracts, because they are "nice guys", as blunt as it sounds, owners do not go into the baseball business to be nice, but to make money. Because many of them want to win and want to hire the best talent available they make these investments. The MLB revenues have increased from less than $5 billion in 2005 to more than $10 billion, during the last pre-pandemic season.
I cannot believe this lockout could go into the 2022 season, but if that happens nobody should be shocked. There is too much at stake here for the game. Aside from this two protagonists (owners and players), there are many others that work in the game of baseball around the 30 major league cities in the country. They all want stability in their lives, anxiety is considered a disorder and it is not pretty. Teams also like to plan for sponsors, ticket sales, promotions, many peoples livelihood depends on the business of baseball and the majority are not players or owners.
There are many things that both sides are and will have to negotiate for the next CBA contract (usually a contract of this sort last for 5 years). Below are just a few of those:
-Pitch clock (yes, to 'speed-up' the game)
-Creation of a "salary floor"
-Salary arbitration for players after two years, not the three currently. A quicker path to free agency.
-Universal Designated Hitter
-Rookies now make $570,00 (Union wants to increase that salary for first year players.
-Revenue sharing (in 2021 a modified, Loan-based revenue sharing was adopted)
And many other issues that will not take a week or two to come to an agreement, or maybe it will?
We can only go from the previous record of these type of negotiations and it is not a pretty sight.
"Baseball is like a poker game. Nobody wants to quit when he's losing; nobody wants you to quit when you're ahead."-Jackie Robinson.