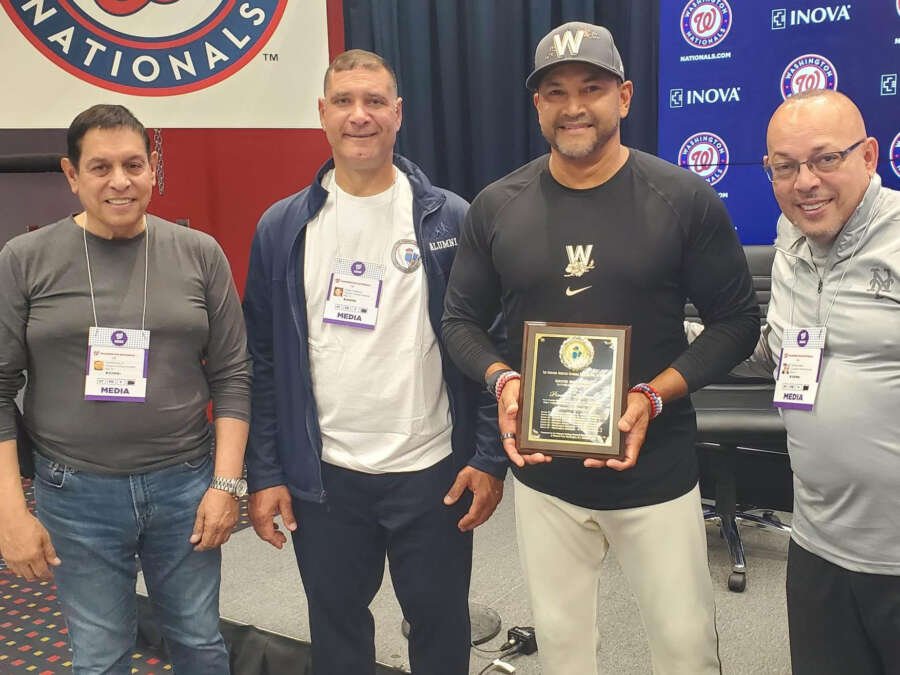 HHBMHOF AWARDS PIONEER AWARD TO DAVE MARTINEZ
The Hispanic Heritage Baseball Museum Hall of Fame Pioneer Award was presented on Saturday May 13, 2023 at the Nationals Park, Washington, D.C. to Dave Martinez, manager of the Washington Nationals Baseball club. Dave was selected in 2020 by the Board of Directors of the HHBMHOF for being the First Hispanic of Puerto Rican decent born in Brooklyn New York the United States in Major League baseball history to win a World Series since the inception of the National League in 1876 and the American League in 1901, making baseball the oldest sport in the United States.
From left to right in the photo above: Tito Avila, Founder President and CEO HHBMHOF, Oreste Marrero, HHBMHOF Director of Youth Baseball Clinics former Montreal Expo and Los Angeles Dodgers 1st Baseman. Ray Avila, Assistant to the President HHBMHOF and Reporter of Quisqueya International Newspaper, Newark, New Jersey.