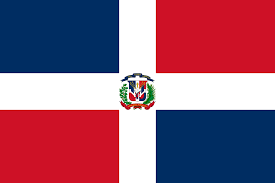 CIUDAD TRUJILLO: TENSIONS, BASEBALL STARS, AND A DICTATOR
BY ISMAEL NUNEZ
The year was 1937, A year earlier "THE YANKEE CLIPPER JOE DIMAGGIO made his rookie debut, Lou Gehrig continued his string of conservative games played, the New York Yankees would the World Series in 1936, leading the way to win three more. In the Dominican Republic Baseball along with Dictator Rafael Trujillo was the talk of the town.
As Callum Hughson stated in his article "Ciudad Trujillo Baseball." "Like in Cuba Baseball became a national obsession. He needed the game to win the hearts of the people."Yet here are some facts one should know about Trujillo he was no gentleman! Rafael Trujillo was one of the worst dictators of all time! He was an openly racist especially towards Black Haitians to add in 1937 he ordered the massacre of 20,000 to 30,000 Haitians living on the border of Haiti. This performance still continues the dispute between Haitians/Dominicans to this day.  Trujillo would the island/country as his baby! As Writer Averell "Ace" Smith stated from his book on the team "THE PITCHER AND THE DICTATOR" ( I recommend the book, great piece of history) "He started naming places after himself. He created a Trujillo province and made his birthplace, San Cristóbal, its capitol. Next he had the capitol city, Santo Domingo renad Ciudad Trujillo, he even had the highest mountain in the country rechristened Pico Trujillo" He had complete control of everything business in DR: Name it Tobacco, salt, newspapers, sugar, beef. Milk. It was reported by the year 1958 his wealth was $500,000,000! WOW!
'"
To add Brotha Malcolm J. Pointed out clearly in his article "And let's not forget that he established quotas that targeted Haitian immigrants by limiting how many could cross the border, and the same year he's looking to put this dream team together, he not only supported several of their state-sanctioned killings but even directly ordered the largest mass-murder of Haitians and Afro-Dominicans of Haitian descent in the history of the Caribbean.
Now suddenly, the same man who wanted absolutely nothing to do with blackness, and was willing to eradicate an entire culture of people over the color of their skin and their heritage to preserve some false sense of purity in his nation, would have to place everything—his bid for reelection, his dreams to conquer baseball, basically his chance at total supremacy—in the hands of what he hated the most. He had to turn to black baseball players."
One can see the only thing he had no control was Baseball! Like always he wanted the best. Since he knew the way to get the vote was by showing the love for the sport of Baseball, he went out and got the best. Thom Loverro in his article "WILD PITCHES IN DOMINICAN REPUBLIC: IN 1937 HE decided to change that. In order to field a team that would be champions of Dominican Baseball League, he raided the Negro Leagues fort some of its biggest stars." He sure did!
As Baseball Reference reported "The Dragones de Ciudad Trujillo were one of the most notable Dominican League teams of the 20th Century. Existing for one year, 1937, the team was sponsored by dictator Rafael Leónidas Trujillo." Look at the names of the players! Many of whom are now in the Baseball Hall of Fame. Among them " Satchel Paige, Josh Gibson, James Cool Papa Bell and Perucho Cepeda(the father of Baseball Hall of Famer Orlando Cepeda)
Their opposing team "Aguilas Cibaenas" also several notable Baseball Hall Famers: Among them "Horacio "Rabbit" Martinez shortstop From Santo Domingo, Dominican Republic. Bats right, throws right. A fine defensive shortstop, average hitter, had gifted speed, fine bunter. Many who saw him stated, "When you see HALL OF FAMER OZZIE SMITH, Future HALL OF FAMER OMAR VIZQUEL, AND HALL OF FAMER PHIL RIZZUTO who was known as great bunter." Martinez was doing the same thing fielding, and bunting for years." 

Dominican League – BR Bullpen (click this link to learn more)
Martin "El Maestro" Dihigo" Cuban- Bats Right, Throws Right-Considered by many to be the best all around player in the Negro Leagues and in Major League Baseball. Hall of Famers Satchel Paige and Buck Leonard have stated he "He was the greatest player in the Negro Leagues and MLB! He's the only Ballplayer elected to the American, Cuban, Mexican, Dominican, Venezuelan, and Latin American Baseballs Hall of Fame.
Luis Tiant Senior-Pitcher Throw's Left was a gifted pitcher. Father of Star pitcher Luis Tiant "who stated he was a much better pitcher than me." Baseball Hall of Famer and Negro League all star Monte Irvin, "He could've been all star pitcher in Major League Baseball."
Other notable players: Tetelo Vargas he was called "El Gamo" He was called "The Dominican Deer". Not only fast was also a consistent hitter. As Averell "Ace" Smith reported "In 1953 at the age of 47 that year playing baseball in the Dominican Republic he won the batting title hitting .355! Wow! Vargas is enshrined in the Cuban, Dominican, Puerto Rican and Latin American Baseball Halls of Fame, Smith stated proudly "He also belongs in the American Baseball Hall of Fame As for the 1937 season: Alan Klein stated in his book "Sugarball(fine book on Dominican Baseball) talking to a Dominican writer who stated "We would up killing professional baseball here. Although we continued to play amateur ball we spent many years without professional baseball." Wow a proud/sad history that never should be forgotten!